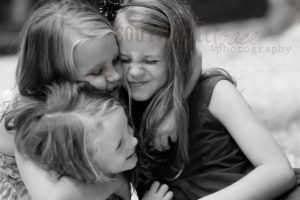 Why in the world would I say such a thing??? Like most busy families today it seems as though there are never enough hours in the day and we are constantly pushed and pulled in a million different directions at once.  From church functions to school functions, sports, and extra curricular activities, there is simply not enough time to get it all done sometimes.  While I feel like the stress of these things just like every one of you, I have been reminded lately of the things that matter most and just exactly why I so love broken bones, snotty noses, and sticky floors…
Over the past few months we've had 2 broken bones, lots of snotty kids, stomach flu's, several doctors visits, things tear up, blow up, and mess-up.  Just like everyone else in the world.  Ya'll know what I mean.  Sometimes you just have those days where it seems like if it can go wrong, it will go wrong.  We all have them and no one is immune to them.  Being the Momma to 3 kids, there are times I think I might surely pull my hair out and ship either myself or a few kids off to the zoo.  But, recently more than ever, I have begun to study on the pure, amazing, and endless blessings that we receive daily from our wondrous, loving Heavenly Father, and I'm not talking about money or "things".  While we are blessed to have more than we need, I'm talking about the blessings that only He can provide.
This week as I sat a Dr.'s office for 3rd time in weeks span, I wasn't thinking about how I didn't have time for that, or that it was a hardship to have kids that didn't feel well or had a snotty nose.  This week, I sat there every time just thanking God that I had kids that were only there for minor ailments, and not something more serious.  As I traveled back and forth to the orthopedics for my oldest daughter and her 2 separate, sports related broken bones, I wasn't thinking what a pain and hassle it was.  I was thanking God  for giving me 3 daughters that were healthy enough to be playing sports!  What a blessing it is to have kids that able to run and jump and dance!  I was thanking Him for giving us a vehicle that would allow us to travel up and down the road to get to the Dr.'s office.
After school and ball games and appointments, when we finally make it back home and it looks as if a tornado has possibly been through the inside of our house, and I want to hang some little monkey kids by their toes for the messes I find in their rooms and clothes strewn about (on sticky floors, none the less), the thankfulness floods my heart, for someday those little monkeys will be grown up and moved away.
You see, my heart is flooded because as long as I am at the Dr. for snotty noses and not treatment for cancer or some terrible disease, I am most surely blessed.  As long as I am making trips for sports injuries, I am most surely blessed, because I have kids that are healthy enough to play ball.  As long as my floors are sticky and my house is a wreck, that means I have happy kids that are running around makin' messes and it also means we have a home.  I've come to see more than ever that as long as our family is healthy and together and we have a rough over our heads and food on the table that's enough. No, it's more than enough.
Just this morning as I was trying to leave for work, my only pair of glasses broke, and for those of you who know me, you know I am blind as a bat without either glasses or contacts, and my washing machine quit.  All you mommas out there with 3 kids know what it's like to be out of a washing machine for even a little bit.  I admit, I had to catch myself and redirect the instant thought that I was about to have that, "this is a pain, and I don't have time for all this mess right now".  It's easy for us all to get caught up in the day to day task and chores and "problems", but no matter how many little things go wrong today, remind yourself of where you're at and where you could be.  You could be gathered at a hospital.  You could be making funeral arrangements for a loved one.  You could be fighting for your child's life.  You could be without food or a rough over your head.  I have friends and family that are fighting many of these battles this very hour of this very day.  Don't let the little things get you down.  You ARE blessed!
This day we have been blessed to be up and about the Father's business and we will continue to live our days doing so for as long as He sees fit.  As far back as I can remember, when my grandpa or my Daddy prayed, they would always say, "Thank you Lord for letting things be as well with us as they are".  I guess I never paid that much attention to it as a child, but I find those words come out of my own prayers a whole lot these days.  I believe the old saying that "things could always be worse" and I also believe the old saying  that there is ALWAYS something to be thankful for…like broken bones, snotty noses, and sticky floors. 🙂
~O give thanks unto the Lord; for he is good: for his mercy endureth for ever. -Psalm 136
Xo,
Canzady