Hey Ya'll! Whether you've stumbled upon our site by accident, or you were intentionally searching for our site, you've found us and we're so glad you're here; so come on in and let us tell you a little bit about who we are and what we're doing here…
My name is Canzady, (that's Can-zu-dee for most of you who have never, and will never again hear that name), and I am first and foremost a seeker of Christ. Secondly, I am a wife and mother to 3 amazing girls who spends most of her time doing wife and motherly things. I grew up on our family farm, surrounded by all the lovely things that farm life brings. Barns with lofts full of hay to play in, rolling pastures to run in and race through, ponds that we would fish until we couldn't find anymore worms to dig up, and enough rope swings to supply every farm in the South.
Aunts, uncles, cousins, grandparents. We have all always lived together on the farm. I guess that's part of what made the days on the farm so much fun as a kid. We were never lonely. And surprisingly, although our families have each grown, we all still live on the farm & we're still not lonely. There's always somebody around, ready to lend a helping hand, or for the kids, occasionally get into mischief with.
Fast forward several years from my childhood, and that's where we found Farm Bred, or maybe Farm Bred found us. It was one of those things that just kind of happened. Chassidy, one of said cousins I grew up on the farm with, and I decided we'd like to build a brand and business that showcased our farm roots and everything about our authentic, Southern life that we so love. That includes Jesus, our Lord and Savior who'm we will always give the glory, our families, & our country lifestyle. Out of that, came a simple name that is truer than true.  Farm Bred. A name that encompasses not only what we are, but who we are.
We will share with you not only our brand and apparel, but also little bit about our families and our lives along the way.
We always say, "It's not just a brand. It's our way of life."
Faith. Family. Farm Bred. In that order.
We're so glad ya'll stopped by and we hope to meet ya'll somewhere along the way! May God bless ya'll on your journey.
XOXO,
Canzady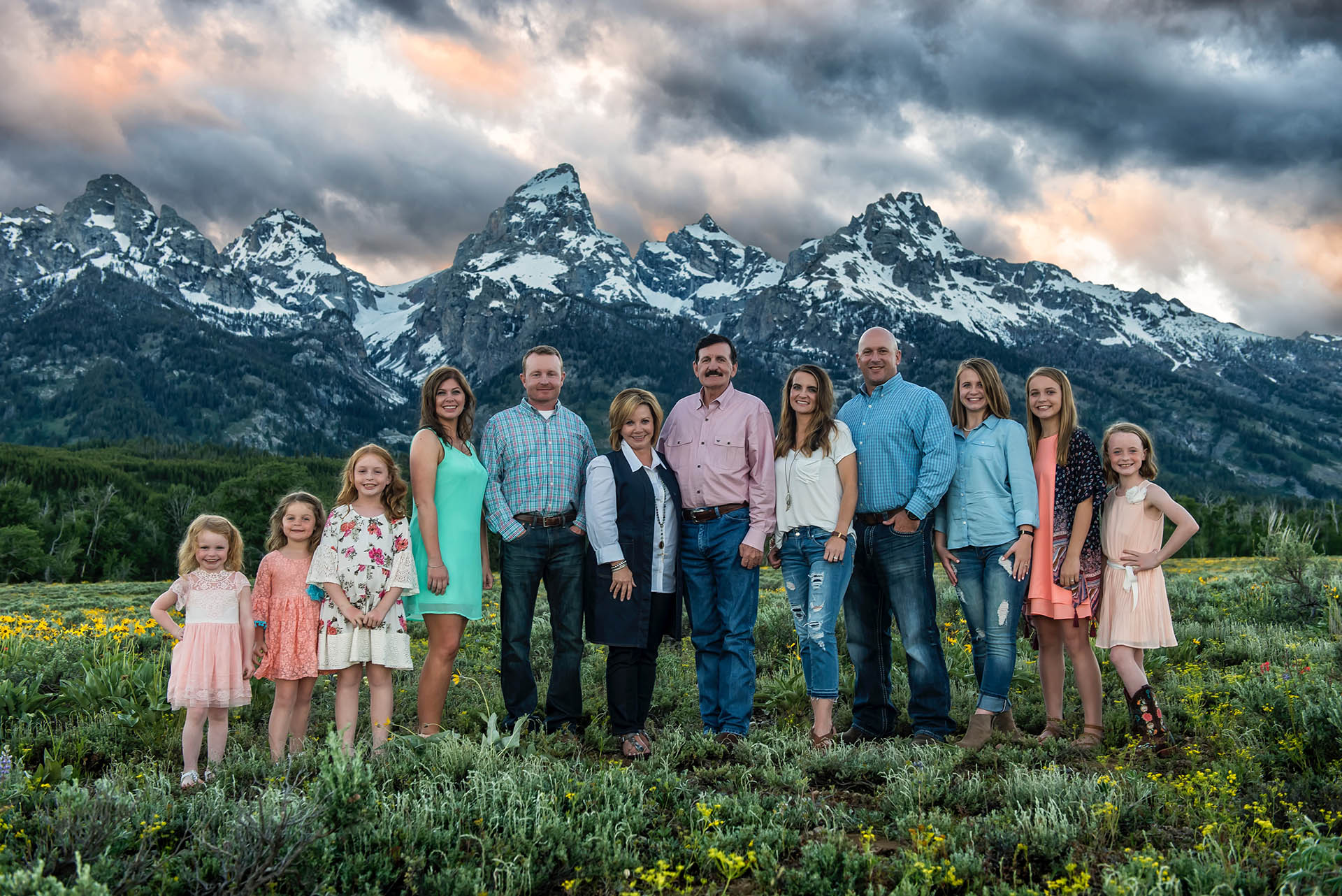 Right to left: My 3 daughters, Hadley, Ella, & Laney. Myself, Canzady, my husband, Brent, next is my dad, my mom, my brother, his wife, and their 3 daughters. (Yes, my brother & I each have 3 girls for a grand total of 6 girls and absolutely no boys. God surely has a sense of humor!)